30 06 23 | Community
Stockport Town of Culture: An opportunity to be part of 2023 Open Exhibition at Stockport War Memorial Art Gallery
As Stockport celebrates being awarded Town of Culture, there is an opportunity for you to be part of 2023 Open Exhibition at Stockport War Memorial Art Gallery – Stockport Makes: The Real Public Art Show.
 Stockport has been named Greater Manchester Town of Culture following in the footsteps of Bury and Stalybridge.
Throughout Stockport's term as Town of Culture, there are opportunities for everyone to be active and creative and celebrate the people, places and stories of Stockport.
Stockport is already home to some amazing creative people – living, working or connected with Stockport. Many people make and create work that's inspired by places and people across the Borough.  Stockport's special Town of Culture themed Open Exhibition at the War Memorial Art Gallery is designed to give local people an opportunity to submit a work of art for display that celebrates something, somewhere or someone in the Borough of Stockport.  We hope that this will inspire many more people to get creative themselves or to explore places captured in the work.
The exhibition will run from Sunday 30th July to Thursday 21st September.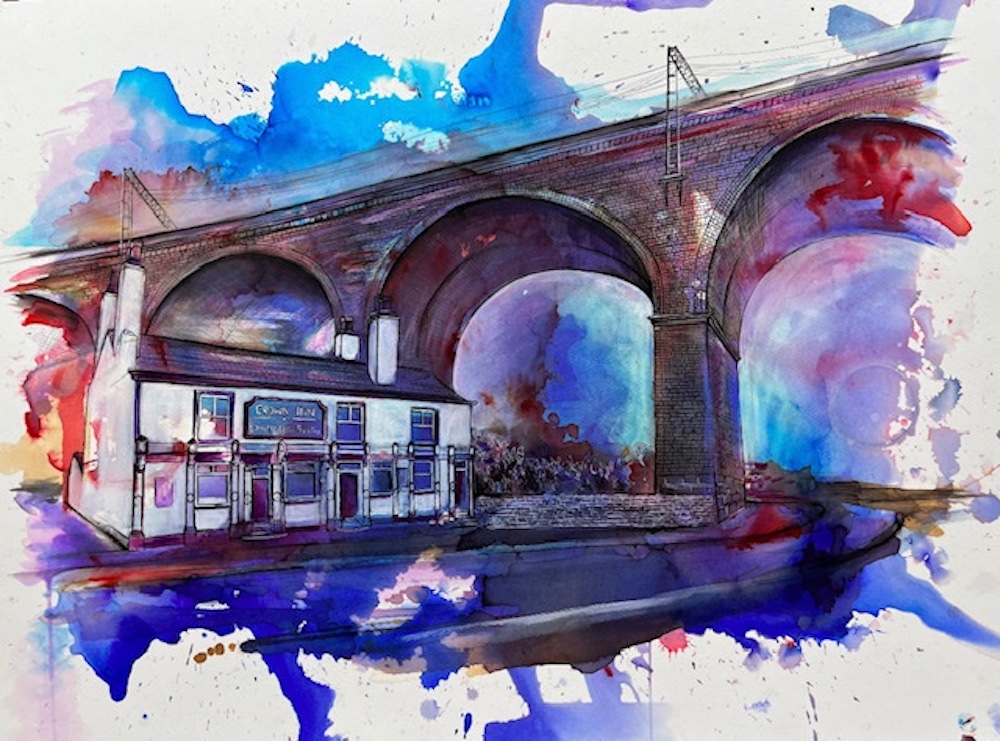 Image of original painting by Kate O'Brien
---
How you can take part and contribute to Stockport Makes: The Real Public Art Show 
We're inviting you to submit a piece of work that you're particularly proud of which is linked to places, people and stories of Stockport.
We're hoping to display work from visual artists, sculptors, photographers, textile artists, writers and digital designers and showcase the creative talent we've got in the Borough.
The work just needs to be in a form that can be displayed (see entry form for more details) and we'd like you to tell us about what inspired you to create the work.
To give as many people as possible the chance to display their work, we are limiting this to one piece of work per person.
Alongside the main open exhibition, we're delighted to be running a special Children's & Young Peoples Open Exhibition where we'll be displaying work from children and young people in Key Stages 1-4,  these can be any works but we'd be especially interested to see how our young creatives have interpreted people, places and stories of Stockport.
Throughout the exhibition, we invite all visitors to Stockport War Memorial Art Gallery to vote for their favourite artworks in the People's Choice Award!  The winners will be announced on Sat 2nd  September at 3pm by the Mayor of Stockport.
Register your interest and take part: Stockport Open Exhibition – Stockport Council
---
Dates for your Diary  
Artwork Handing in Days:  
Thursday 20th July   2pm – 6p
Friday 21st July          2pm – 4.30pm
Saturday 22nd July  10am – 3.30pm
Sunday 23rd July       11am – 3.30pm
Preview for artists and guests:
Saturday 29th July    1pm – 4pm
Stockport Open Exhibition dates:
Sunday 30th July  – Thursday 21st Sept  2023
People's Choice Awards:
Sat 2nd September   2pm – 4pm – Winners Announced at 3pm by the Mayor of Stockport
Cllr Frankie Singleton, Cabinet Member for Communities, Culture and Leisure, said:
"The Stockport Open Art Exhibition is always really popular but this year is even more special during our Town of Culture year. This is a great opportunity for budding and established artists to showcase their work in the iconic War Memorial Art Gallery, for everyone to admire.

"We have so much great talent here in Stockport and we look forward to receiving your work."
Register your interest and take part: Stockport Open Exhibition – Stockport Council
The 192 – image courtesy of Lucy Burgess