06/11/23
Makes
Real Public Art Show: Pat Hill's favourite coffee shop inspired work of art 'Time for a brew'
When Stockport was announced as Greater Manchester's Town of Culture, it presented a fantastic opportunity to celebrate the people, the places and the stories that contribute to Stockport's vibrant ethnicity and its incredibly talented residents.
Being recognised as a Town of Culture also provides opportunities to uncover hidden talent; to encourage and inspire people in Stockport to try something new; to be more active and creative – all key ingredients in stimulating improved health and wellbeing.
The four main strands adopted during our Town of Culture year – Makes, Tastes, Moves and Sounds – ensures there is something for everyone to enjoy and play a key role in shaping our programme which will develop as the year progresses.During the summer, Stockport's first Real Public Art Show, held at the War Memorial Art Gallery, caught the eye of over one hundred creatives of all ages – artists, photographers, poets, writers, ceramicists, and embroiderers – whose work was designed to depict life in Stockport.
We caught up with local resident (and now exhibiting artist) Pat Hill who, through Town of Culture initiatives, was inspired to create her own unique work of art depicting an aspect of life in Stockport, albeit a rather unusual subject!
Meet Pat Hill
Initially on a 3-week contract, for over 29 years Davenport resident Pat worked as part of the GP referral led Orthotic service within Stockport NHS Trust. A familiar figure to patients, Pat helped patients need of Orthotics providing prescription insoles, braces, splints, callipers, footwear, spinal jackets, and helmets which help people recover from or avoid injury, or live with lifelong conditions.
During the Covid pandemic, Pat gave up work to care for her mother who has since sadly passed away. But her days are full – a busy wife, mum and grandma, Pat has 3 boys and 2 stepsons and 12 grandchildren!
How long have you been interested in the creative arts?
"I'm an avid reader, I've always like writing, doodling and drawing pictures and, although I didn't get too involved at school, I studied A level art at Stockport College. During Covid, I knitted toys and created stories for each of the characters.

"It was a very sad time for me after mum died; I was looking for something to distract me. After visiting an art exhibition, I went along to the Woodsmoor Artists – 'a friendly group of mixed ability, enthusiastic, artists' and joined in May 2022. I enjoyed listening to talks from visiting artists who introduced me to a mix of techniques – pen & ink, pastels, chalk work, watercolour – and learning from fellow artists in the group."
What was the inspiration behind your entry to Stockport's Real Public Art Show?
"I became more confident in my ability and, in 2023, exhibited my first work with the Woodsmoor art Group. When I saw the news of Stockport's Real Public Art Show, I decided to have a go at that one too. It was while my husband and I were visiting our favourite coffee shop in Stockport that I came up with the idea of using Coffee Block as my entry 'depicting life in Stockport'.

"We are regular visitors to Coffee Block – we love the coffee; the décor is lovely, and the staff are always very welcoming. But it was the contrasting colours of the blue tiles and the hanging greenery that inspired me to create my 'impressionistic' watercolour."
Coffee Block is described as 'an independent Coffee House serving Awesome Hand-Crafted Coffee on the High Street', which Pat whole heartedly agrees with along with many more of Stockport's discerning drinkers of fine coffee and gorgeous, tasty treats! Last month, Coffee Block was announced as the winner of the Taste of Stockport award at Stockport's Business Awards. Earlier in the year, Coffee Block won Business of the Year at the Made in Stockport awards and has a well-deserved 5* rating on Trip Advisor being rated #1 of 51 Quick Bites in Stockport.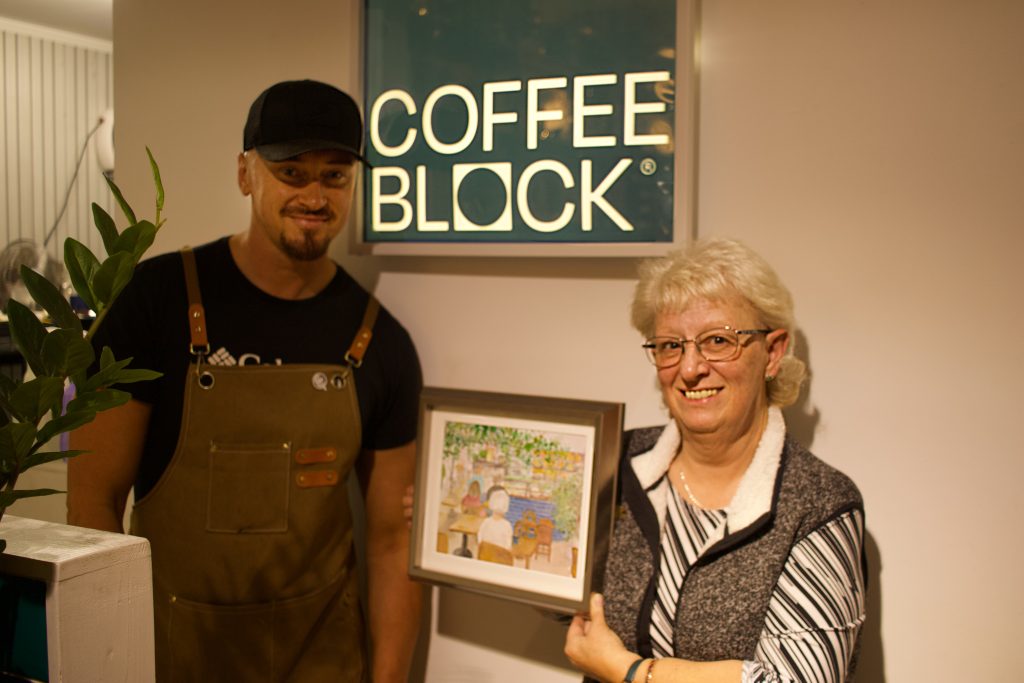 Dave Howarth, owner of Coffee Block pictured above with Pat, was delighted to discover that Pat's artwork had been inspired by Coffee Block:
"I was honoured to hear that Pat chose us as the theme for 'depicting life in Stockport'. It is a beautiful painting; as a fan of the impressionist era, I think Pat has captured the essence of our shop perfectly."
And, as if Pat's days aren't busy enough, for the past 10 years she has also found the time to volunteer every Tuesday at Stockport's Walthew House, helping people who have impaired sound and vision, to play in a steel band and enjoy music to the full.
We are delighted to highlight the important role Pat played within our community at Stockport NHS, and thank her for allowing us to feature her work in this, Stockport's year as Greater Manchester's Town of Culture.