10 11 23 | Health & Wellbeing
Stockport NHS Trust's Awards for Making A Difference Every day
Stockport Town Hall was the scene for a celebration of outstanding care, as Stockport NHS Foundation Trust held its annual Making A Difference Every Day awards. 
Hosted by Greatest Hits Radio presenter Andy Crane, the awards recognised excellence in both Stepping Hill Hospital and local community NHS services, and included a celebration dinner and disco for all those who were shortlisted.
Staff from across Stockport's NHS, both clinical and non-clinical, were among those shortlisted, as well as volunteers and members of the public who have led on fundraising for Stockport NHS Charity. The awards were nominated by both fellow colleagues within Stockport's NHS and members of the public.
The celebrations were funded by sponsorship from local companies and from Stockport NHS Charity.  
The evening's main sponsor was the IT Company CDW, with other sponsors being Brodericks, Ryder Architecture, Diagnostic Healthcare Ltd, Alliance Disposables Ltd, RTC Medical Solutions, Paul Bentley Wholesale Ltd, NHS Professionals, Meel Group Projects, Tilbury Douglas Construction, Bates Office Services, Hicom Technology Ltd, Independent Vascular Services, and Ricoh UK Ltd.
The awards were presented by Stockport NHS Foundation Trust Chair Professor Tony Warne and Chief Executive Karen James OBE, together with representatives of the sponsors.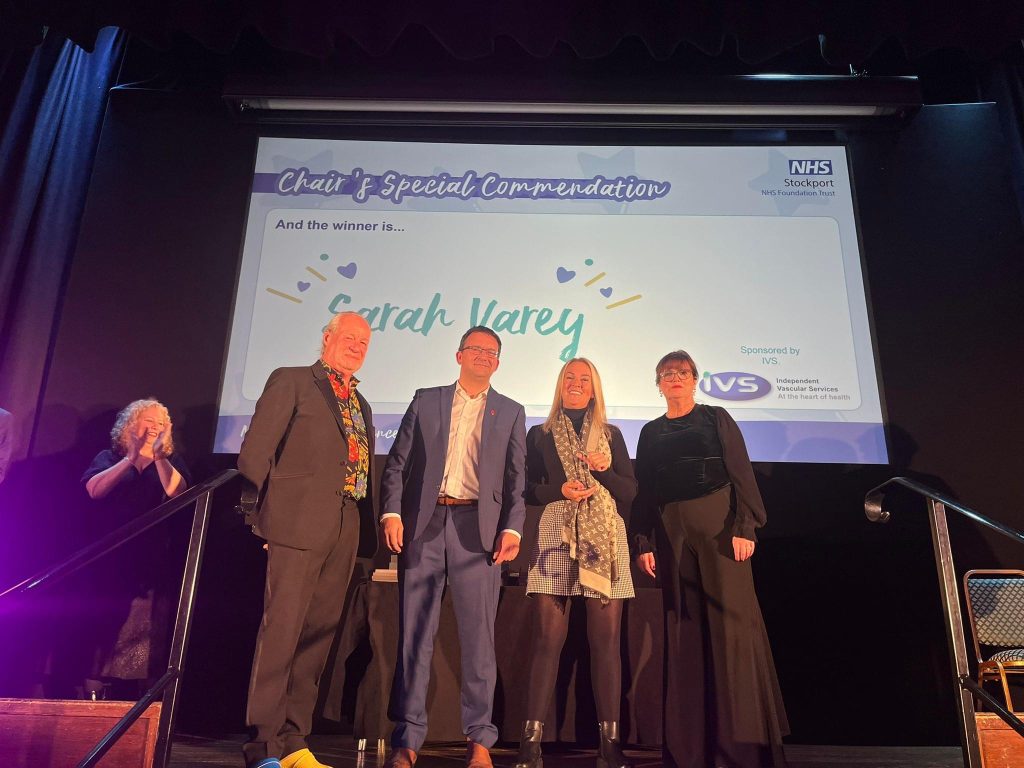 Along with the main awards, a surprise special award at the end of the evening was presented to Sarah Varey, (above), a patient flow coordinator, who had swiftly come to the aid of a man who had been the victim of a stabbing, and whose calm and prompt actions helped to save his life.
Stockport NHS Foundation Trust Chair Professor Tony Warne said
"This evening was a fantastic celebration of great care, which really shows the enormous diversity of the many different roles that go towards making up our local health service in Stockport. Everyone who was shortlisted has made a real difference and truly deserves the honours they have received. I'd like to thank Andy Crane for being a fantastic presenter, and all our sponsors for making the evening possible."
The full list of winners: 
Volunteer of the Year – Greta Harrison
Rising Star – Bethany Suggitt, Clinical Research Practitioner
Fundraisers of the Year – Imelda and Mani Mounfield (Stones Roses), Bramhall & Woodford Rotary Club, and Noah's Golf Day
Inspirational Leader – Jo Black, consultant clinical psychologist
Unsung hero – non clinical – Phillipa Caldwell, senior divisional accountant
Unsung hero – clinical – Helen Blane, senior therapy assistant (stroke unit)
Improvement, Innovation and Efficiency – Rachel Black, advanced clinical practitioner
Patient's Choice – Laurel Suite Team (cancer services)
Clinical Team – Stockport community neuro-rehabilitation service
Non-clinical team – Outpatient Booking Team
Special Award – Sarah Varey, patient flow coordinator